WHAT IS YOUR SKELETON?
Your skeleton is a bony framework of about 206 bones.
WHAT DOES YOUR SKELETON DO?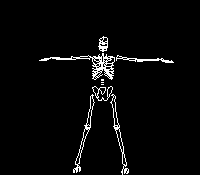 Your skeleton keeps you upright and provides support for your body.
It also provides a tough barrier to protect delicate organs such as your brain.
Muscles are attached to bones which contract and relax and allow you to move.
The Skeleton System