Why Wild Mushrooms Grow In Circles
When you see wild mushrooms growing in fields or on lawns they often grow in circles.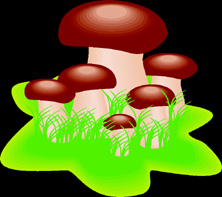 People have wondered about them for hundreds of years and used to call them "fairy rings" and believed elves and goblins danced round them at night.
They believed it was lucky if a "fairy ring" grew on your land.
Today we believe that a "fairy circle" started from a single spore. Each year the plant grows a little further outwards in search of more food. The mushrooms grow only on the outer part of the plant.
So they grow ever outwards, in circles, in search of more food to eat.