OBSERVING ANTS
Fill a large jar with loose soil from an ant hill.
Put the ants and the pupae into the jar.
See if you can find the queen ant.
She is much larger than the other ants.
Do not seal the top of the jar.
If you stand the jar in water it will prevent the ants from getting out.
Feed the ants daily on little bits of biscuits, bread and fruit.
Keep a wet sponge on the top of the jar. The ants will drink from this.
You can observe the ants through a magnifying glass.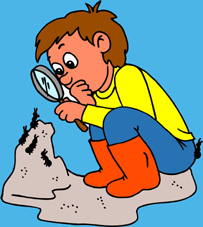 Watch how the antennae function and how the ants behave towards each other.
You can also see how the ants develop, maintain the nest and how they feed.