From now on the chemicals take over.
2: GULLET
The food goes down your gullet (also called the oesophagus) to your stomach. The gullet acts as a link from your mouth to the stomach.
3: STOMACH
In the stomach, the food mixes with protease enzymes which digest the proteins. Carbohydrates are also digested. The food changes into a semi-liquid form. Hydrochloric acid present in the stomach kills bacteria and gives a low pH so the enzymes can work.
4: LIVER
The liver produces bile which emulsifies fats. This is alkaline which gives the correct pH for the enzymes in the small intestine.
.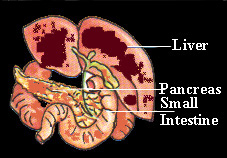 5: PANCREAS
Three enzymes are made in the pancreas:
1: PROTEASE digests the PROTEIN.
2: CARBOHYDRASE digests
CARBOHYDRATES.
3: LIPASE digests LIPIDS (these are FATS).
6: SMALL INTESTINE
Another stomach valve opens and the food now enters the small intestine. More enzymes are produced here to digest PROTEINS, CARBOHYDRATES and FATS even more.
Digested food goes into the blood stream through the wall of the intestine where it is taken round the body by the blood stream to the parts where it is needed.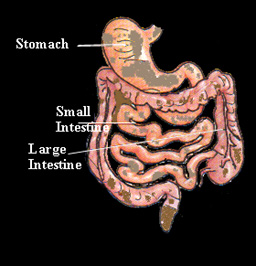 7: LARGE INTESTINE
Food that is not completely digested now passes to the large intestine where water is absorbed.
8: RECTUM
The body then gets needs to get rid of the waste produced from the digestive process.
This waste contains cellulose a plant material which the body cannot digest. It is stored as faeces which are removed form the body via the anus. This is called egestion.