Different sorts of ants do different sorts of jobs.
THE QUEEN ANT
The queen is the largest ant in the nest.
The queen hatches with wings.
When a female has been fertilised she becomes the queen of the colony.
Only the queen can lay eggs.
The queen lives in the centre of the nest.
There may be several queens in one nest.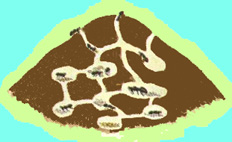 WORKERS
The worker ants are female and have no wings.
Worker ants cannot lay eggs.
The worker ants feed and guard the queen, take care of the young, collect food, clean and guard the nest and dig new tunnels.
MALES
The male ants do not work.
The male ants have wings but they are smaller than the queen.
Male ants die after mating.